In the sun light from heaven
A thousand Lingas shine
The Lord is present
In every stone divine !
Linga is a symbol of worship of the Hindu God Shiba & Sahasralinga means 1000 lingas. Where 1000 miniature lingas are carved on the pujabhaga (main linga pix) following certain geometric principles (set in 99 vertical lines, 11 horizontal),it's called sahasralinga. The name Sahasralinga (1000 lingas) has been created coz of the existence of these uncountable lingas within a single linga called 1000 linga & that's what has been predominately sighted in Odisha. This monolith sahasralinga is quite different from the rest of India where numerous individual lingas are noticed carved out on stone beds preferably near river banks.
This blog is basically created to go on a photo journey to various sites in Odisha where this unique sahasralinga, rather we can say Kalingan sahasralingas have been sighted, starting with Old Town-Bhubaneswar for obvious reasons.
PARASHURAMESWAR TEMPLE – Parashurameswar stands among the few oldest intact temples in India. It was built by the Shailodbhavas around 650 AD (7th cent) in Kalingan architecture & is said to be the oldest living temple in Bhubaneswar. It's astonishing to see 1000 small shiba lingas embedded on one linga. Sahasralinga shiba linga at the Parashurameswara Temple near Mukteswar Temple at Kedar Gouri lane in Bhubaneswar, is the most popular among said lingas. It's carved with 1000 miniature representations of itself.
KEDARESWAR TEMPLE – Like Parashurameswar, there is one sahasralinga most probably relocated from another site & worshipped in a small temple inside the Kedareswar Temple complex near Gouri Temple. Kindly note that Gouri Temple was built during Bhaumakaras in 9th century whereas Kedareswar belongs to 11th century.
SUBARNA JALESWAR TEMPLE – It's situated near the Kotitirtha Lane from Parashurameswar to Bindu Sagar stretch. It's build maybe by the Somavamshis during 10th century. Like Parashurameswar, Subarna Jaleswar too has one sahasralinga in front the temple's entry door. There is another temple on the rear side within the complex with Gangua canal passing closeby.
Pataleswar Temple – It's just before Ananta Basudeba Temple on the eastern ghats of Bindu Sagar. The temple is not in state & assigned to 11th century. The sahasralinga here is locally worshipped as Suryadeba for some mythical reasons.
KHETRABASI NIJOG MANDAP – Although the Sahasralinga is not in proper condition, yet it looks quite different from the rest. It is an ekamukhalinga (linga with a single face) surrounded by 9999 sub-lingas as coiling snake. One of the local priest there said that sahasralinga were made on the basis of sahasranama. It's said that if one can circumambulate around the sahasralinga, then he will get the result of worshiping 1000 Shibas or gods.
Bhabani Shankar Temple complex, Bhubaneswar
BHABANI SHANKAR TEMPLE – The Bhabani Shankar Temple complex, opposite Doodhwala Dharmasala has some mukhalingas & one sahasralinga. Since, the objects are in movable conditions, its likely that it must have been relocated from other site nearby.
DEBI PADAHARA TANK COMPLEX -The location is not Hampi, but our very own Bhubaneswar's Debi Padahara tank complex opp. Lingaraj Temple's main entry on eastern side. It was built by King Jajati Keshari in 11th century & recently it had received a face lift by State Govt. Noticed one Sahasralinga at Debi Padahara complex which originally had 108 Shibalingas. This surviving linga here looks different because the top portion has also been carved instead of being plain. Since the complex is also known as Sahasralinga Tank, it's most likely that all the lingas were sahasralingas. Sahasralingas (single linga with dotted miniatures) are often 1001 or 1008, but this site seems like that it had 108 sasharalingas in all the individual small shrines in the complex. Mostly sahasralingas are in open condition for spiritual connection reasons, but this linga is inside the miniature temple in the tank complex.
LINGARAJA TEMPLE COMPLEX – Lingaraj Temple stands just next to Puri Srimandir in terms of popularity & number of visitors. Yet rarely has anyone noticed not one, but two saharalingas inside the complex outside the jagamohana, facing east.
Lingaraj Temple stands just next to Puri Srimandir in terms of popularity & number of visitors.Yet rarely has anyone noticed not one, but two saharalingas inside the complex outside the jagamohana, facing east.
JAMESWAR TEMPLE – It's located at Jameswarpatna, near the Badhei Banka crossing, Bhubaneswar. Built by the Eastern Gangas during 12th century, its a mega structure but visited by lesser people in Bhubaneswar, When inquired about the presence of sahasralinga inside the complex, the priest says when all Shibalingas in an area (say Bhubaneswar) are assimilated into one, it's called sahasralinga. If one tries to counts, it will be 50 in horizontal (round) n 20 from top to bottom (vertical).
SIDDHESWAR TEMPLE (Jajpur) – On the banks of Baitarani river, there's one beautiful temple dedicated to Lord Shiba by the name Siddheswar, after Jajpur Town in Jajpur district. There are two such 1000 lingas noticed in this ancient temple complex alongwith a beautifully decorated stambha within the complex. Some spiritual guru says that sahasralinga helps in awakening brahma, one will surely feel the same by visiting this serene location.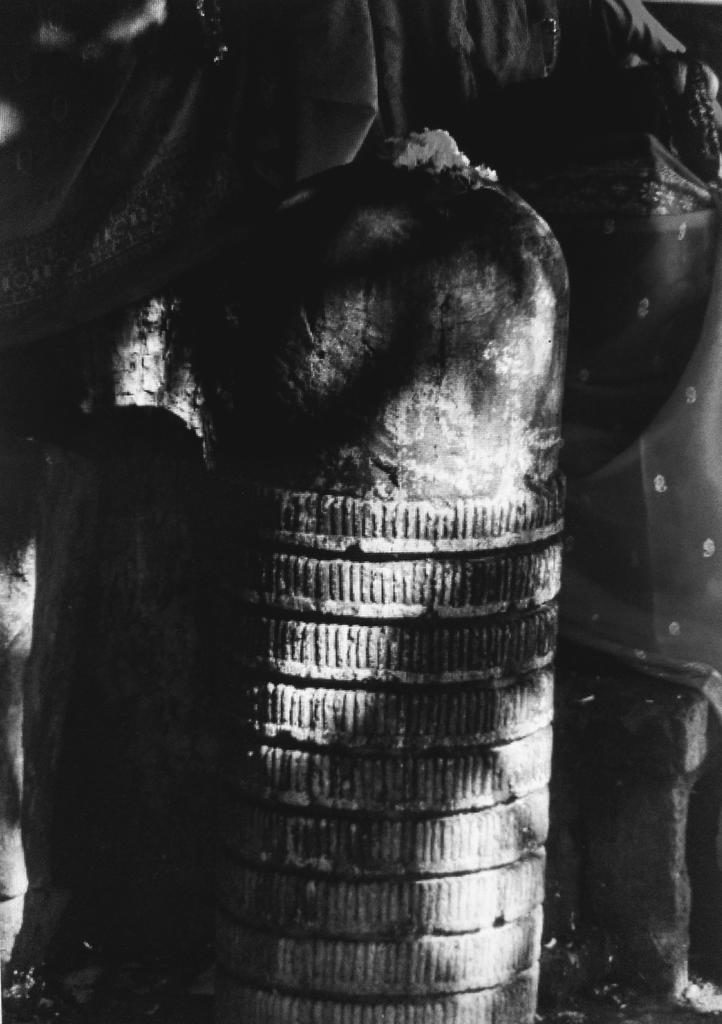 BIRAJA TEMPLE COMPLEX – The temple complex has been renovated in 19th century, but the presiding deity is from 5th century. Out of the 108 Shibalingas displayed inside two rooms (from the small entry gate side), there are good quantity of Sahasralingas (maybe 10+) preserved inside the two rooms. Here, there are around 10 such sahasralingas noticed, maybe collected from various locations n preserved inside a room. One more Sahasralinga (from the small entry gate side) is noticed below the neem tree.
On the eve of Mahashibaratri , Goddess Parbati saw that sahasra (1000) sivalingas were scattered everywhere and she got realisation that Shiba is every where. The same logic goes for single linga with 1000 carvings.
Second n damaged Sahasralinga at site. Loc: Siddheswar & Somnatha temple complex, Gangadharprasad village, Dhenkanal
In the sun light from heaven A thousand Lingas shine The Lord is present In every stone divine ! One more 1000 linga added to list
The sacred tank is located on the right side of the road leading from Lingaraja temple to the Bindusagar, and on the north eastern side of the Lingaraja temple. Build by the eastern Gangas during 12-13 century AD . The sacred Debi Padahara tank is surrounded by 108 miniature temples housing sahasralingas.
A beautiful sahasralinga at Kajala Mahadeb Temple premises at Kendrapara Town, just beside Kendrapara Autonomous College
Bankadagada is an ancient lesser visited site deep inside Banpur area under Khurda district. The Swapneswar Mahadeb Temple built by the Shailodbhabas around 7th century in rare Astayatana pattern has been recently renovated by archaeology dept. There is one sahasralinga noticed inside the complex.
Sasasralingas in Odisha are quite distinct from rest of India since locally we have monolith lingas with sahasra engravings wheres in rest of India, the sahasralingas are individual numerous lingas carved /concentrated in an area especially near river bed/bank. The "Koti Shibalinga Mountain' situated at Kutunipadar of Laxmipur block (Koraput) is an exception, Koraput was recently in news due to the finding of countless shibalingas of various shapes at Kutunipadar and the size ranges from few inches to 4 feet. The site needs proper documentation & research.
A heritage walk at Old Town titled "Search for Sahasralingas" was organised by Aitiha, a start-up agency as a trial walk for its heritage curated tours. The walk turned out to be a hit with over 10 walkers joining in & collectively around seven sahasralingas in on patch were explored. The search for sahasralingas in Odisha does not stop here, rather its second phase starts from here. Information is pouring in from various sites regarding existence/sighting of sahasralingas in Odisha which are not updated here. It includes Mahabinyak near Chandikhol, Nrusinghnath in Bargarh district, Bimaleswar Temple at Huma in Sambalpur to name a few more, Those places which were once under the ancient Kalinga empire must also be having monolith sahasralingas especially in North Andhra Pradesh. Viewers here are expected to make value additions to this blog with their inputs & supporting photos.
Before ending, let's have a short note on the saharasralingas spread across India. The sahasralingas outside Odisha have a quite different feature. Places like Patan (Gujarat), Shamli & Hampi (Karnataka) & parts of present Andhra Pradesh & Telengana have sahasralingas. Even in countries like Cambodia, Sahasralingas have been noticed. All those have not been included in this blog since the concentration is mainly on Sahasralingas sighted in Odisha.
Note: The sahasralinga topic was earlier posted in twitter & face book in May 2019. Thanks to all who contributed with their inputs & images in making this blog.
Images: Taranisen Pattnaik except wherever mentioned.
Source:
(C) 2020 All rights reserved