Odia songs on black disc record had been on a quite remarkable journey, from Seikh Khan Mohammad's devotional shellac in 1906 to the very first Odia talkie Sita Bibaha's songs in a shellac 78RPM record format released in 1936. By late 1960s, the Extended Play (EP) records with microgroove 45RPM having more running spaces were introduced in the Odia film records. And by 1970, the fragile shellac records made from lac were discontinued & replaced by PVC-made Long Play (LP) records with 33 +1/3RPM speed. Super 7 (also known as Mini LP) was of the same size of 7 inch as that of LP with 33+1/3 RPM, but contains more songs in the record, were also released from time to time, often exclusively & at times along with EP. In between, Standard Play (SP) vinyl records containing single songs per side were also available. Finally, by 1986, Odia original soundtrack record pressing was permanently discontinued, thereby putting a sad end to the charm of listening to the crystal clear music on the magical black discs.
The major record labels associated with Odia music were The Gramophone Co./EMI (which owns HMV, Angel, Odeon,Columbia etc record brands), Hindusthan, INRECO (sister concern of Hindusthan), Kohinoor, Senola, Kalinga, Laxmi & Surya (brands owned by Leisure Sound of Cuttack), Gathani & Mayur label (owned by Gathani Musicals Co), etc. Initially, the record covers were generic in nature without any artwork on them. Later on, the covers came both in black & white & in colour featuring still from the movies, recording artist photos, artwork, film names in attractive fonts, etc. There are two years associated with a movie – the year of music release & the year of its movie release. Odia record music industry, being a regional player, had a small market. The album makers (whether film or non-film), had to provide a written guarantee of sales to the record pressing companies, (say minimum 100 LPs or 50% of records pressed). Hence, there are lesser nos of LPs noticed in Odia films as compared to EPs. Records were released quit earlier before its film release, thus helping in the movie's publicity. Kindly note that the year mentioned here alongside the movie name is mostly that of the record release year & may or may not be that of the film's release year.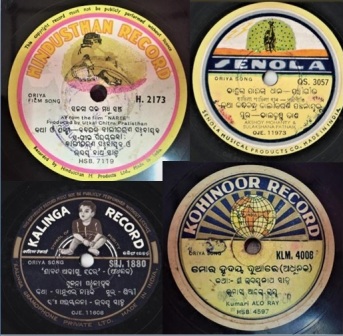 This article talks about the selective Odia original soundtrack vinyl records (incl more than one record format) compilation released during 1970-79. There shall be a continuation to this article with a fresh post containing selective vinyl records released during 1980-86. This article also features some of the never-released films in a rather photo journey format. The majority of images & info used here are from OdiaMelody's social media pages & YouTube channel. So, let the music play & tell its own story!
Adina Megha|HMV-Angel Records|Shellac & EP|78 & 45RPM|1970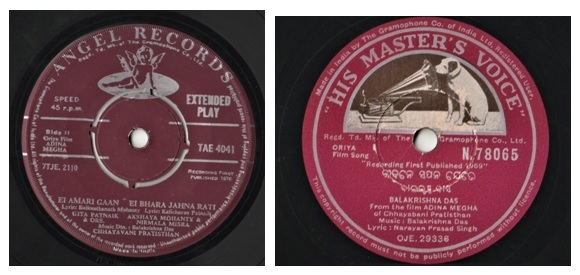 Adina Megha is one of the instances where both 78 RPM Shellacs and microgroove 45 RPM were published simultaneously as a running trend. 'Aei Bhara Janha Raati' song by Akshaya Mohanty and Nirmala Mishra was the first song of Akshaya Mohanty in which he gave voice to any lead character of the movie. 'Boulo Ki Kahibi' – the song that introduced teenager Trupti Das & made her a household name. She & Geeta Patnaik was the fresh voices introduced in the film. During that era, Odia film female playback singing was mostly dominated by Bengali singers incl. Shipra Bose, Sandhya Mukherjee, Arati Mukherjee, Nirmala Mishra to name a few.
Sansara|EMI|Shellac & EP|78 & 45RPM|1970
Sansara, directed by Gaur & Parbati Ghosh, became the first Odia film to be made Tax Free by the state government, produced by Health Dept on Family Planning. The melodious 'Dheu dheuka pahada tale' song was first tried on Trupti Das & then on Geeta Patnaik, but eventually was recorded with Nirmal Mishra. The Sambalpuri song 'Jae phula re' was penned by State Health Minister, Shri Murali Prasad Mishra. "Na'kara Na'kara mana" song may be termed as the first philosophical song of Pranab Patnaik, beyond his boatman songs. Sansara, released in 1973, is the last Odia movie to release its record, both in Shellac & EP format.
Mana Akasha|Odeon|EP|45RPM|1971
Playback singer Chitta Jena made his debut song recording in Odia films with the talented Odia music director Upendra Kumar through his 'Mana Akasha', recorded in 1971 but released in 1974. 'Dharitri' Odia film, also composed by him released first in 1973. 'Ae Bana Jharana' sung by Chitta Jena and Sikander Alam, lyrics by Sibabrata Das was a chartbuster. His recent stint with South movies mainly Kannada & Tamil prompted Upendra Kumar to introduce south singers namely S Janaki & HP Gita into Odia films through Mana Akasha with success.
Mansara Bilapa (unrel)|Odeon|EP|45RPM|1972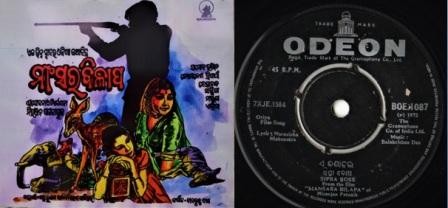 Mansara Bilapa, based on the short story by Kalindi Charan Panigrahi, though completed & censor completed, could not be released due to some reasons, maybe financial issues. The songs were anyhow released in 1972 featuring fresh voices like Bhikari Bal, and the likes of Nirmala Mishra, Shipra Bose, composed by Balakrushna Das. The movie was by the makers of 'Bandhan' (1970). The poster of Mansara Bilapa shown here was displayed under 'Chaya Pratichaya' Odia Film posters exhibition at State Museum, Bhubaneswar in 2016 by Film Journalists Forum (FJF), to celebrate the 80 years of Odia film journey. The drama version of the story was aired on All India Radio-Cuttack long back that I can faintly remember. Thankfully, it's on YouTube now. .. https://www.youtube.com/watch?v=kOGkND-fY08&t=1865s
Dharitri|Odeon|EP|45RPM|1973
As per the release date, Dharitri is considered as the official debut Odia film of music director Upendra Kumar & singer Chitta Jena. 'Prananatha nainle ta' – the song of Banamali Dasa was used on Shipra Bose. All the six songs in the film stand out for their sweet melodies and lyrical quality. 'Sapanara Pathe Pathe' sung by Sikander Alam, lyrics by Sibabrata Das & picturised on dashing debut star Shriram Panda was an instant hit.
Ghara Bahuda|Odeon|EP|45RPM|1973
The movie is based on Kishore Charan Das's novel of the same title & is the first film of lyricist Sibabrata Das. Music director Akshaya Mohanty came up with a brilliant score in the film. While Akshaya Mohanty had earlier sung under the baton of Balakrushna Das, the maestro sang under the music of Akshaya Mohanty in 'Marinele Mahapatre' song. The songs of the initial period of Odia film era were crafted so beautifully which can be termed as true gems, the period which can be extended up to Ghara Bahuda (1973). 'Eka Eka Mane Mane' penned by Narasingha Mohapatra & sung by Nirmala Mishra can be termed as a classic.
Ghara Sansara|Odeon|EP|45RPM|1973
Ghara Sansara is the first released film of singer Bhikari Bal (Prabhu pada tale) & lyricist Brundaban Jena. 'Sapana Bilasi' is quite a melodious song by Nirmala Mishra and Shyamal Mitra, lyrics Narayan Prasad Singh & composed by Rakhal Mohanty and V Balsara. Balsara is a well-known music arranger in Bombay & Calcutta music circle, proficient in playing multiple musical instruments. He introduced western instruments into his orchestration & used them in making Indian fusion music. Balsara was associated with a number of Odia movies as an arranger especially cabaret/orchestra songs and as a co-composer for Ghara Sansara. Check out 'Raat Sharabi' song in this movie to know his talent level.. https://www.youtube.com/watch?v=LjDsZT-xbYo
Kanakalata|EMI|EP|45RPM|1974
Kanakalata is based on the novel by Pallikabi Nandakishore Bala with music by Srikumar-Balakrushna Das. One can notice the palli geeta (traditional folk songs of village) aspect in all its songs. Record cover has 'Boita Bandana' (Bindhani Bhai) & 'Bagha Mamun' song scene. It has a number of songs with poetry of Kabi Samrat Upendra Bhanja, Bhakta Kabi Madhusudan Rao, Atibadi Jagannath Das, Abhimanyu Samantasinghar, Gangadhar Meher, Ramakrushna Nanda, Kabichandra Kalicharan and more.
Mamata|EMI|EP|45RPM|1975
Mamata songs were released in 2 EP records in which Prafulla Kar made his debut as a Music Composer. Apart from the modern notes, traditional & folk elements were used in its compositions. The movie as well as the songs proved to be hugely popular. It was the first Odia movie to record its songs in Madras, instead of the usual Calcutta, thus introducing further new singers from the South including Vani Jayaram & P Susheela. 'Mun ta Manisa Marini' song with lyrics by Sibabrata Das & sung by Sikander Alam was an experimental attempt to use multi-languages in a single song. Though Prafulla Kar had released his first record in 1970, it was not until 1975 that he could get his first break for a movie.
Jajabara|HMV|Super7|33+1/3RPM|1975
Jajabara is the first Odia film with a title song. Director Trimurti comprises of Khoka Bhai (Akshay Mohanty), Bijaya Mishra & Hemanta Das. It's the first film by comedian Jayiram Samal. Apart from the music composition, Khoka Bhai had done the screenplay too. It's said that Akshay Mohanty was ahead of his time, which can be well noticed in the title song ' Jajabara Mana Mora', both in the content of the lyrics, rhythm & orchestration.
Samaya|EMI|EP|45RPM|1976
Samaya songs were also released in 2 EPs, composed by Bhuban-Hari, the duo of Bhubaneswar Mishra & Hari Prasad Chaurasia joining hands for the first time. The recording was done in Bombay & the album had an ensemble of Bollywood artists – Mukesh, Asha Bhonsle, Suman Kalyanpur, lending their voice for the first time in any Odia Movie. It also had a song by Manna Dey, who by then had sung for a couple of Odia movies. 'Re Priya Mora' sung by Mukesh in 'Samaya' (1976) is the only Odia song by him which is still fresh in Odia moviegoers mind. Samaya is the first partially coloured Odia movie & its producer Ganesh Mohapatra managed most of the depts efficiently from direction to story, screenplay & even lyrics.
Bati Ghara|EMI|EP|45RPM|1676
Bati Ghara (1976) was the second movie to be released, composed by Prafulla Kar. Although the movie was unsuccessful, the Pranab Patnaik number 'Seema Hina Daria' penned by Sibabrata Das is still remembered which is termed as one of Prafulla Kar's finest works. The director Abhiyatrik (pseudonym) is actually a group of five directors – Anant Mohapatra, Sadhu Meher, Byomkesh Tripathy, Ashu Dutt & Jayant Kumar.
Krushna Sudama|EMI|EP|45RPM|1976
Krushna Sudama composed by Sri Kumar (Bhubaneswar Mishra) was a huge success. 'Chhota Mora Ae Ghara' sung by Vani Jayram, written by Sibabrata Das & composed by Bhubaneswar Mishra is one such example. Despite being a Tamil singer, such flawless pronunciation shows her dedication. The soul-stirring songs endeared the listeners – Chitta Jena, Pranab Patnaik, Vani Jayram, P Susheela & Bhubaneswari Mishra (her debut movie), putting in their best.
Sindura Bindu|EMI|LP| 33 1⁄3 RPM|1976
Sindura Bindu (1976) was the first Odia movie whose LP in vinyl was released. The music was composed by Prafulla Kar, both the movie and the songs still remain a classic. 'Tuma saree ra ranga' is a qawwali, 'Naja Radhika' is a classical fusion & 'Mo Priya Tharu'* is an all-time hit number. Mahasweta is noticed as a junior artist in the song 'Adine Malli Mahaka'. It's said that till Sindura Bindu, EMI – the record company giant, had only the distribution rights of Odia film records, but with Sindura Bindu, it officially entered the regional Odia music arena with a bang.
Sesa Srabana|EMI|Super7|33+1/3 RPM|1976
Prasanta Nanda made his debut as a Director with Sesa Srabana. 'Majhi re' sung by Pranab Patnaik is treated as one of his best songs. 'Manika… Alo Alo Manika' sung by Chitta Jena and Md. Habib, was written by Prafulla Kar*. Anyway, the songs composed by Prafulla Kar went on to become massive hits & the movie a resounding success. Rajashri later remade the movie in Hindi as Naiyya (1979) directed by Prasanta Nanda with himself in the lead & majorly shot in Banki muhan area. It's the second Odia movie in colour after Gapa Helebi Sata & the debut movie of Mahasweta as a lead actress. The record can be termed as the initial Odia film's Super 7 Record.
Gapa Helebi Sata|HMV|EP & SP|1976
Gapa Helebi Sata is the first fully coloured film in Odia. Lyricist Guru Krushna Goswami also worked as AsstMusic Director for the film. Among the hits songs of the film, 'Mun je janena kaha bata' & 'Ae bana ra chhai' are quite soothing to the ears. Singer Amit Kumar was introduced in the film. Odisha Film Development Corporation (OFDC) was created in 1976 for promoting the growth of the Odia film industry.
Sathi (dubbed)|EMI|EP|45RPM|1976
Sathi was dubbed from the Dharmendra starred Shola Aur Shabnam (1961) Hindi movie. The reason for the 16 years delay in dubbing & releasing the movie had a long story linked with the previously dubbed movie Bhagya & the issues raised by actor-producer Dhira Biswal. The record had the Odia versions of the songs composed by Khayyam with dubbed lyrics by Ganesh Mahapatra. Unfortunately, neither the dubbed film nor its record clicked. The songs were sung by Amber Kumar Deo & Lela Ghosh. It has 'Phoola Ku Jhure" for the well-known Hindi song – 'Jeet Hi Lenge Baazi'. https://www.youtube.com/watch?v=vjLLcFNhDoI .
Ahuti (Unreleased)|EMI|LP|33 1/3 RPM|1976
Ahuti (1976) composed by Akshaya Mohanty was never released, but a full-fledged LP was released, a rarity in those days for Odia movies. It had a song by Sekhar Ghosh – 'Surya Hey Tume', his first recorded song for any movie. 'Jyotshan Aane Prajapati' is an all-time hit duet song by Akshaya & Trupti Das with lyrics by Devdas Chhotray .. https://www.youtube.com/watch?v=Db_9AxSaOGc
Abhimana|EMI|Super7| 33+1/3 RPM|1977
The two musical geniuses – Radhakrushna Bhanja and Saroj Patnaik, came together for the first time for Abhiman. The debut movie of superstar Uttam Mohanty presented a wholesome collection of evergreen songs. Akshaya Mohanty's own additional voice in 'Chik mik chik mik' also adds gravity and charm to the cabaret song by debutant Swarupa Chakraborty. Since most of the artists associated with the film were from Mayurbhanj, the flavour could well be noticed in the songs especially 'Bhasa Megha Muje' in which the popular ghumar beats (using madal drums) have been used with Santhali lines in between.. Dena bhon senale makan butanen, Makan butanen, dela makan butanen, Kondel kondel joto bhon nenei tabente… (meaning in Odia- Chala jiba samaste, aame mahula gachha mule, mahula gachha mulaku jiba mahula gachha mula, Khundi khundi jete gachha, nachiba sethare).
Suna Sansara|EMI|Super7|33+1/3 RPM|1977
Suna Sansar, directed by Sisir Mishra had a good ensemble of actors with Sriram Panda in the lead & music composed by the duo of Sunakar Sahu-Arjun Charan Samal. Prafulla Kar was noticed singing 'Raja Mora Raja' with Swarupa, under a different baton which he did rarely. Arjun Charan Samal singing 'Michha Maya Bhara' to his own composition is the highlight song of the movie.
Mukti|EMI|EP|45RPM|1977
The songs of Mukti (1977) were a successful score by Prafulla Kar with songs like 'Nacha Nacha Sajani' rendered by Pt Raghunath Panigrahi, turning a chartbuster. The theme was based on Debaki Bose's 'Ratnadeep'(1951), which was remade in Tamil and later on in Hindi by Basu Chatterjee as 'Ratnadeep'(1979), the Hema Malini-Girish Karnad starrer.
Bandhu Mohanty|EMI|EP|45RPM|1977
Prafulla Kar's composition of Bandhu Mohanty with Gobind Tej in the titular role, based on the life of this great devotee of Lord Jagannath, complemented the storyline for which the movie was a huge success. Chitta Jena, Vani Jayaram, and Prafulla Kar rendered some of their finest songs namely Mahabahu, Namaste Prabhu Jagannatha & Maa go Mamatamayi, etc
Chilika Teerey|EMI|Super7|33+1/3 RPM|1977
Chilika Teerey presented one of the finest compositions by Shantanu Mohapatra with all the songs penned by Sibabrata Das. The soulful 'Urmi Adhira Rupasi Chilika' by Pranab Patnaik is an ode to the magnanimous Chilika. The music was arranged by the famed Y.S.Moolky. The movie with Bijay Mohanty & debutant Tandra Ray as the lead pair won the National Award for best Odia film in 1978. The music is termed as a complete album with each song crafted to perfection, for eg. 'Ja ja re bhasi jaa' by Nirmala Mishra.
Naga Phasa|EMI|Super7|33+1/3 RPM|1977
The multi-starrer action thriller Naga Phasa presented a superlative score from Akshaya Mohanty. It had some of the memorable songs by Akshaya Mohanty, Trupti Das, and Geeta Patnaik. 'Je Dinu Paichhi' sung by Akshaya Mohanty & Trupti Das, written and composed by Akshaya Mohanty is an all-time hit song with matching picturisation on a bike. 'Bada Bedardi' was a mujra experimentation while 'Ae Rati Pahiba' was a haunting melody, tried in Odia movies. The music was released in a double Super7 record. Naga Phasa is the first released movie of Bijay Mohanty, in a negative role.
Amar Prem|INRECO|EP|45RPM|1977
Amar Prem is the first solo movie of the talented music director, Rakhal Mohanty, who had a very limited presence in Odia films. Thereafter, he went on to score music for Trinath Mela & Akhi Trutiya. 'Mayabini ei rati' is a chartbuster song by Nirmala Mishra. And, before getting recognised as a bhajan singer, Bhikari Bal had sung in many adhunika songs & Odia film songs incl this movie's 'Ghum ghum ghumri para' song. Amar Prem is likely to be the entry album of INRECO (Indian Record Co) in Odia films.
Anutap|EMI|EP|45RPM|1977
Anutap saw many firsts in a single Odia movie – Jalal Adeni made his debut as a composer, Nizam wrote his first song, Tansen Singh also made his debut as a singer. The movie had some melodious compositions like 'Nida Bhara Rati', 'Mun Tumaku Bhala Paae' and 'Nupur Kahinki Mun Bandhili'. Mun Tumaku Bhala Paae sung by Nirmala Mishra and Tansen Singh was written by Sirsananda Das Kanungo, his first for a movie. The music was released in the two EPs.
Sautuni|Gathani|EP-Super7 |1977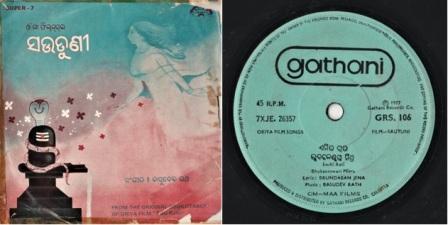 Sautuni cemented the position of Basudev Rath as a frontline composer with many popular numbers. He is popularly known as the Bappi Lahiri of Odia music industry who introduced disco music in Odia. It was a challenge for Basudev Rath to compose a single song – 'Emiti Rati' (lyrics by Brundaban Jena) in two different moods, one in the romantic mood by the female singer Bhubaneswari Mishra & the other in the melancholy mood by Pranab Patnaik. The music was released both in EP & Super7 records by Gathani.
Sankha Mahuri|EMI|EP|45RPM|1977
Sankha Mahuri by Balakrushna Das was released on double EP by EMI. 'Sathire ama geeti re" by Pranab Patnaik & Sekhar Ghosh leads the song list.
Ae Nuhein Kahani|Gathani|Super7|33+1/3 RPM|1977
Ae Nuhen Kahani composed by Upendra Kumar, was the first full-fledged Odia remake movie from Telugu, the trend which never looked back again. The music was released by Gathani on Super7 records, which also markets in the name of Mayur, dominated the Odia music scene for almost a decade from 1977.
Punarmilan|EMI|Super7|33+1/3RPM|1977
With Punarmilan, composer Upendra Kumar added another feather to his cap with a couple of memorable songs like 'Mun Rickshawala' sung by Sikander Alam, written by Natyashree Raghunath Mishra (all lyrics). Another song on the theme of Raja festival – 'Asa Baulalo Asa Sangata' sung by B K Sumitra, K Swarna, and others is quite hummable. The practice of making Telugu remakes into Odia continues here.
Pipasa|EMI|Super7|33+1/3RPM|1977
Pipasa was among the early movies of Bijay Mohanty-Tandra Ray jodi, all the songs were written by Sibabrata Das, composed by Upendra Kumar. The highlight was the Pranab Patnaik & P Susheela duet 'Madhu Jhara Phoola Bane'. The record was released by EMI in Super7 format.
Manasi|INRECO|Mini-LP|33+1/3RPM|1977
Manasi with music by Prafulla Kar was released in Mini LP format by INRECO. The highlight of the record is 'Kiye se priya kahin prema' song by Debashis Mohapatra which proves the versatility of the composer Prafulla Kar.
Rakta Golap|Gathani|Super7|33+1/3RPM|1977
Rakta Golap was the only movie composed by Dhananjaya Satpathy. It had some memorable duets of Akshaya Mohanty & Pranab Pattnaik especially 'Mamata ra Madhumati' & the comical 'Bhola re Bhola' by Dhananjay Satpathy himself.
Mana Mandira|EMI|Super7|33+1/3RPM|1977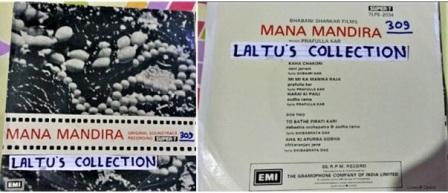 Mana Mandira movie was almost finished, but could not be released due to certain issues. 'To sathe pirati kari' is the most enjoyable song, written by Sibabrata Das & voice lent by Debashis Mohapatra & Sudha Rama. At that time, radio was the sole medium for movie & its song publicity. But, there was a policy by All India Radio-Cuttack, not to broadcast any unreleased Odia movie songs if it doesn't get released within the timeframe. Hence, like other unreleased records, Mana Mandira songs were discontinued after some time, but still, the songs were quite appreciated by the radio listeners.
Sakhi Gopinath|EMI|EP-Super7|1978
Basudeb Rath made a lasting impression with his debut movie – Sakhi Gopinath. He went on to rule the music scene for more than a decade. Anuradha Paudwal sang her first Odia song for the movie with 'Tume mo Radha' and Manna Dey rendered the beautiful 'Jamuna Jaa'ana". The music was released by EMI in both EP & Super7 format.
Sati Anusuya|EMI|LP|33+1/3 RPM|1978
Prafulla Kar composed 'Sati Anusuya' (1978) based on the mythological story, met with unprecedented success. The songs by Vani Jayaram and Subash Dash proved to be chartbusters including the duet 'Kuhu kuhu bane kuhu kuhu'
Sankha Sindur|EMI|EP|45RPM|1978
Sankha Sindur had solo music composed for the first time by Sunakhar Sahu with singers like Swarupa Chakraborty, Vani Jayaram, Sekhar Ghosh, lending their voices. 'Tume mora kanhu' is the soulful one by Vani Jayaram. The record was released by EMI on EP format.
Priyatama|EMI|Super7|33+1/3 RPM|1978
Priyatama is singer Debashis Mohapatra's debut released movie, remembered for his duet with Swarupa Chakraborty – 'Eyee Preeti Phula Jhara Pathey'. The Sriram Panda-Mahasweta Ray starrer movie is composed by Shantanu Mohapatra. The first-ever 'Happy New Year' song in any Odia movie is featured in Priyatama, sung by Debashis.
Pati Patni|INRECO|Mini-LP|33+1/3 RPM|1978
Pati Patni, based on a Telugu story was a multi-starrer & amongst the early movies of Bijay Mohanty-Uttam Mohanty. It had songs by Vani Jayram & Akshaya Mohanty with music by Telugu films music director Ramesh Naidu. 'Luchichi Mun Luchichi' song by Vani Jayram is quite nice to hear.
Jhili Mili|INRECO|LP-EP|1978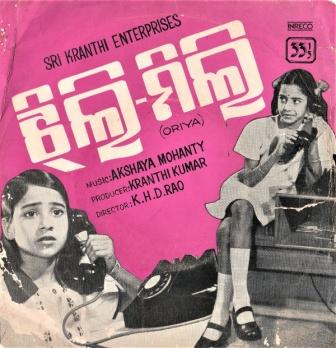 Jhili Mili (1978) was made on the storyline of the popular Hindi movie 'Do Kaliyan' (1968) which was made by the original Tamil filmmaker. Composer Akshaya Mohanty wrote all the songs for the movie, had a sweet duet with S Janaki – 'Badhu Hase Madhu Madhu'. The music was released by INRECO in both LP & EP format.
Samarpana|EMI|EP|45RPM|1978
Samarpana (1978) composed by Upendra Kumar had some sweet numbers like 'Indradhanura Saptaranga' by singer Pranab Patnaik, ranked amongst his finest songs. 'Samira Surre Gae' by Chita Jena & HP Geeta is a romantic number. Then there is the Sambalpuri lilting song 'Bajuche Madala' by Girish Purohit & Jayanti Mishra & written by Binod Kumar Pasait.
Kula Chandrama|EMI|EP|45RPM|1978
Kula Chandrama is yet another Telugu film remake with music by the obvious choice, Upendra Kumar. Pranab Pattnaik's 'Rati Pahithile' with lyrics by Brundaban Jena, stands out for its soulful rendition. The title song – 'Tu eei Kula Chandrama' by Vani Jayaram is one of the finest Happy Birthday songs in Odia films.
Chinha Achinha|EP-Super7|1978
Chinha Achinha film was released in 1979 but the record was released by Gathani before in 1978. Starring the hit Jodi of that time – Uttam & Mahasweta, the film with music by Basudeb Rath was quite a rage. Songs like 'Chanda na tume tara' by Tansen Singh & Swagatika Rath were a hit among the fans & are still played in events. Pranab Patnaik created a milestone with the rendition of his boatman song 'Jaa re majhi jaa'. It's the debut movie of popular villain Asit Pati.
Tapoi|Gathani|LP-Super7|1978
Akshaya Mohanty hit the bull's eye with his songs for Tapoi, based on the legend story associated with 'Khudurukuni Osha'. Songs penned by Binodini Devi and Akshaya Mohanty used local dialects and colloquial words that blended perfectly with the theme of the story. 'Sata daria pare' & 'Nirimakhi kuanri' were the quite popular songs of the album. It's the first film of the lead actress Khyanaprava, while she was still in school. With Tapoi, Gathani Records entered the Odia film music market. It's said that Khoka Bhai himself approached Gathani with the proposal to release Tapoi.
Samar Selim Simon|EMI|EPRPM|1979
Samar Selim Simon was the debut movie of composer Md Mushir. The movie was unsuccessful, but the songs are still popular. Sekhar Ghosh achieved fame with 'Hrudayara Ei Sunyataku' penned by Nizam. The song was actually made for the All India Radio-Cuttack, but eventually got featured in the movie. It's the only film by director-actor Sailazanand. He had announced another venture Heera Chora, but that film didn't materialise.
Ramayana|EMI|LP|33+1/3 RPM|1979
Ramayana (1979), based on the mythological story was a huge success both musically & at the box office. It was later on dubbed in other languages too. 'Prabhu Parambrahma' sung by Subhash Dash & 'Hema Harini' by Bhikari Bal are chartbusters. 'Baida baja baja' sung by Prafulla Kar seems to have a southern influence in the song.
Balidana|Gathani|EP|45RPM|1979
Prasanta Nanda's 'Balidana' was a blockbuster with the songs composed by Prafulla Kar blending well into the storyline. The movie had the first Holi Song – 'Rangeli re' for an Odia movie and the legendary prayer song 'Ahe Dayamaya Biswa Bihari' written by Ramakrushna Nanda & sung by Vani Jayaram, was a complete score. This song, rather an anthem is still part of the morning prayer of many Odia schools.
Aparichita|EMI|EP|45RPM|1979
Composer Md Mushir came up with another excellent score with Aparichita, based on the novel Nadi Nistaranga by Jnanpith Award Winner Dr. Pratibha Ray. Her kid daughter Adyasha Ray (Das) singing 'Akhi Nahin Kana Nahin' on the lyrics by Pratibha Ray and a lullaby 'Ei chiki miki' by Nirmala Mishra are worth listening. It's the debut movie of singer Sushree Sangeeta Mohapatra singing 'Aji Mahuri baje' with Nirmala Mishra.
Tapasya|Gathani|EP|45RPM|1979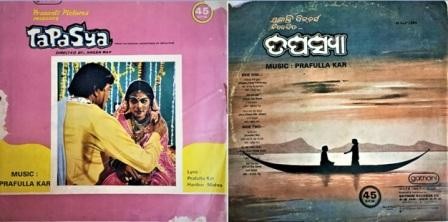 Tapasya added to the repertoire of Prafulla Kar as a finely composed piece, all the songs were written by Prafulla Kar, while the brilliant rendition of 'Dhali Dia Sara' by Chitta Jena was written by Harihar Mishra, eminent writer & currently heading Odisha Sahitya Akademi.
SriKrushna Rasaleela|EMI|LP|33+1/3 RPM|1979
Srikrushna Rasaleela is the only Odia movie whose double LP was released in gatefold jacket, with as many as 28 songs in these two records, sung by a galaxy of singers of the era. The music was composed by Rakhal Mohanty with tunes improvised by Balakrushna Das. The lyrics were traditional (Jayadeba's), composed mostly in Odissi style with choreography by Guru Kelucharan. The lead star Rabindra Atibudhi is an established Odissi Guru. The film is also known as Mana Bhanjana. The producer Kamal Lochan Mohanty is the father of Odissi dancer Aruna Mohanty. The film is the first Odia film in Eastman Colour with cinematography by Rajan Kinnagi.
Gouri|EMI|Super7|33+1/3 RPM|1979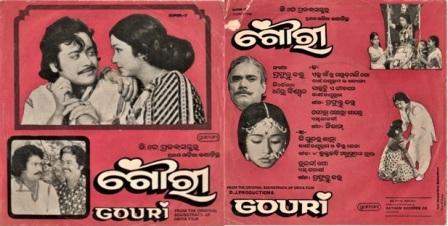 Prafulla Kar added another feather to his cap with his songs for Gouri, featuring popular pair of Prasanta Nanda-Mahasweta Ray. The story was based on the Bengali novel Swyamsiddha which was made in Telugu, Bengali, and later on in Hindi by Pramod Chakravarty as 'Jyoti' (1981). The title song by Vani Jayaram & chorus is quite hummable.
Palataka|Gathani|Super7|33+1/3 RPM|1979
Palataka composed by Upendra Kumar was released in the Super7 format by Gathani. The film was adapted from Kanhu Charan Mohanty's novel of the same name. It's the only film by director Prafulla Rath. 'Mun je janena tuma bandana' bhajan song by Vani Jayaram is worth listening.
Pratidhwani|HMV|EP|45RPM|1979
Starring Ajit Das, Jaya, Hemant Das & others, the film music composed by Upendra Kumar had some memorable songs including 'Jochana Bujhe Sina' by Sikandar Alam & Vani Jayaram. The film was finally released in 1984. https://www.youtube.com/watch?v=tYomftw37Gg
Mathura Bijaya|INRECO|EP|45RPM|1979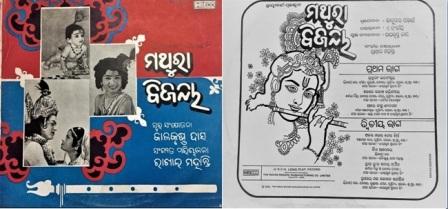 Balakrushna Das returned to composing movies after a hiatus with Mathura Bijaya. Rakhal Mohanty conducted the music. The songs by Nirmala Mishra, Bhikari Bal, Sekhar Ghosh, Geeta Pattnaik, and others bore the inimitable stamp of the maestro.
That's all about the selective Odia film vinyl records released during the decade 1970-79. The major Odia films vinyl info not updated here as of now include Kabi Samrat Upendra Bhanja, Paribara, Janma Daata, Nijhum Ratira Sathi, Sri Jagannath (1979), etc. There are instances of error data mentioned on record covers* & records, but nothing can be done now, except reliving the old charms irrespective of creators/creditors :). Viewers are requested to provide value addition & trivia to this article to further enrich it & make it one point reference post for all. There is very little info available on the artists who created the illustration on the record covers. It's being heard that eminent illustrator Sri Benudhar Pratuhari had designed the posters of Odia movies like Jajabara, Megha Mukti, etc including the font for the film titles. Anyway, my list of best Odia film record cover mentioned in this article includes Dharitri, Kanakalata, Chilika Teerey, Aparichita, Anutap, Rakta Golap, etc.
to be continued … (Odia film vinyl covers from 1980-86 to be published in a separate post)
Source: https://twitter.com/odiamelody with additional inputs from various record collectors – Simadri Panigrahy, Anil Mishra & Soumyakant Khandual
Images: Odia Melody except wherever mentioned*
©2021 All Rights Reserved. tarani4u@gmail.com