April 28th is Utkal Gourab Madhusudan Das's birthday. He is best remembered for his contribution towards creation of separate Odia state on linguistic basis. As a tribute to him, his birthday is celebrated in Odisha as birthday of Odia Film industry since the first Odia movie "Sita Bibaha" was released on this very day in 1936 by a well known Ram Leela artist named Mohan Sundar DebGoswami & with it the initial start-up concept in film making in Odisha was laid. He never thought of any monetary aspect behind film making, but took it as a challenge to dream of film making in a state like Odisha. Initially, Odia cinema made a slow start because the industry had to depend on the infrastructure & facilities available in Kolkata. The wait for the second Odia film was long & took 13 years for the second Odia film "Lalita" (1949) to hit the screens soon followed by Shri Jagannath (1950). The urge to break free from this dependence was on. In 1959, Kabiraj Krushna Chandra Tripathy Sharma of Aska (Ganjam) did. His film Sri Sri Mahalaxmi Puja featured amateur artists from all over Odisha.
Interestingly most of the initial films were either based on mythologies or adapted from great Odia novels which are in abundance in Odisha. So, let's walk down the pages of Odia film history & carry out some interesting trivia talks –
1936 Sita Bibaha – First Odia film, total 14 songs, two songs lyrics by Narasingh Nada Sharma & rest by Mohan Sundar DebGoswami, music by Radharaman Ray, released on April 28th 1936 at Laxmi Talkies, Puri, first & only produced/directed movie by Mohan DebGoswami
1949 Lalita – First Odia film post independence after a long gap of 13 years.
1950 Shri Jagannath – First Public Ltd film production company in Odisha after General Pictures Corporation (Madras), Gopal Ghosh's only film as actor, Chapala Nayak as child artist
1951 Rolls 2 to 8 – First Odia film with English title, first Odia social drama & love story, adapted from Kali Charan Patnaik's novel
1951 Sapta-Sajya – First film of theatre star Byomkesh Tripathy
1953 Amari Gaon Jhua – First Odia Bengali bi-lingual movie, Parbati (Chapala) as debut actress in lead role.
1954 Kedar Gouri – Music director duo Bhubaneswar Mishra & Balakrushna Das's first movie under the name Bhuban-Kishan, first Odia movie of Odia singer Bina Debi, screenplay by Manoj Das
1956 Bhai Bhai – Novelist Manoj Das's only Odia movie song 'Bhulana bhulana sakhi'
1958 Maa – First movie of singer Akshay Mohanty,Pranab Patnaik & lyricist Gurukrushna Goswami, Music director Bhubaneswar Mishra (solo) under adapted name Srikumar, adapted from novel by Gyanendra Verma.
1958 Maa – DancerGuru Kelucharan Mohapatra was the choreographer for the movie
1959 Sri Sri Mahalaxmi Puja – First Odia movie produced in Odisha by Aska based Kabiraj Krushna Chandra Tripathy Sharma's Utkal Chalachitra Pratisthan Pvt Ltd, actor Sarat Pujari's debit movie, first rain song in Odia films – Akashe kete bijuli, Odissi dancer Kelucharan Mohapatra's first Odia movie as choreographer
1960 Shri Lokanath – First solo movie of music director Balakrushna Dash & lyricist Narasingh Mahapatra, actress Manimala, first Odia movie to win National Award
1961 Parinama – First lullaby (lori in Hindi or nanabaya in Odia) song in Odia films 'Dho re baya dho' (lyrics Narasingh Mahapatra)
1962 Laxmi – First movie of singer Sikandar Alam, based on Bengali novel Sahar Theke Dur, first Odia film to be granted loan for film making by Film Finance Corporation (later NFDC)
1962 Shri Shri Patita Pabana – First film song of Prafulla Kar as singer
1963 Jayadeb – Lyrics by famous novelist & politician Dr Mayadhar Mansingh
Naari 1963 – Kabichandra Kalicharan Patnaik wrote lyrics & sang for the first time in this movie. He is said to have acted & set music for the film
1963 Nua Bou – Experiment done by using various names of Odia/Hindi movie names in the song 'Aha goonj uthi sehnai'; Prasanta Nanda won National Award as best actor, first movie of lyricist Narayan Prasad Singh
1963 Surjyamukhi – First movie of music director Santanu Mohapatra who had introduced 'jumping notes' into Odia movies inspired from SD Burman, Singer Lata Mangeskar's first Odia song (Sei chuna chuna tara) & Manna Dey (Bandhu re); First Odia movie qawali song – 'Aei ranga rahiba nahi'
1964 Amada Bata – Adapted from novel by Basant Kumari Patnaik, the song 'Eta kali kala re' was called servant song & Akshay Mohanty agreed to sing it since no lead singers were agreeing for it
1963 Jibana Sathi – Adapted from Bengali novel by Sailesh Dey; First Odia movie to be shot in Shimla; one of the few Odia movie whose songs record were not released including Rolls 2-8 & Amari Gaon Jhua
1964 Manika Jodi – Panchasakha pictures banner members – Srinibas Paikray, Dhira Biswal, Ramakrushna Tripathy, Kailash Ch Karana.
1964 Sadhana – Movie based on Ashapurna Devi's novel "Chhadapatra"', first movie shot in Sambalpur, hence released at Laxmi Talkies (SBP) on 18.9.1964; one of the initial Sambalpuri songs (Jhum jhum baje) featured in Odia movies & Rabindra Sangeet genre (Tumari priti nei) in Odia movie; First Odia song to use chorus – 'Nayane sunayana'. It's said that 'Abhi na jao chhodkar' song (Hum Dono 1961) is based on this tune which was initially released in record in 1955 by Balakrushna Das.
1965 Abhinetri – First Odia movie with double roles by lead actress (Actress Jharana Das as Chaya/Maya), adapted from novel by Kanhu Charan Mohanty, choreography by Kelucharan Mohapatra
1965 Mala Janha – First movie of Akshay Mohanty as Music Director, adapted from novel by Upendra Kishor Das, won national award for best Odia movie.
1966 Ka – One of the Odia movies with the shortest name including Maa adapted from novel by Kanhu Charan Mohanty, first movie of lyricist Devdas Chhotray
1965 Matira Manisa – Adapted from novel by Kalindi Charan Panigrahi; Only Odia film to be directed by Mrinal Sen; Won National Award for best Odia film & actor (Prasanta Nanda)
1968 Arundhati – First Odia song of singer Usha Mangeskar (Ei chota katha), originally to be sung by Lataji but she recommended her sister's name instead since she was not ready to sing with an unknown male singer Pranab Patnaik; Mohd Rafi's only Odia released movie as singer (Tumaku paruni & Mayuri go). It's said that Prafulla Kar was the first Odia music director to record a song with Mohd Rafi, but the movie never got released
1968 Kie Kahara – First Odia chalu song of that time – Phulei rani saja phula , popular with barati brass bands so was its other song Paradeshi bandhu tume
1969 Stree – First Odia twist dance number – 'Jhumi jhumi ase akhi'; First lyric song of music director Swaroop N Nayak (brother of lyricist Sarada P Nayak), acted & sang the intro too in Kali Juga Krushna Muhin; Actress Sujata Anand's maiden name was Kuldip Kaur; first Odia film to be financed by Odisha Finance Ltd, Director Siddharth name consists of Parbati Ghose, Gaur Ghose, Ramchandra Thakur & maybe Sarada Prasanna Nayak, Mujra song "Jaubana jhari jhari" picturised on Ruma Guha Thakurta (ex-wife of kishore Kumar), Parbati Ghose handled multiple depts in the film – Parbati as director team, Srabani as screenplay, Chandana as actress/dancer.
1969 Bandhan – Movie made with efforts from Niranjan Patnaik, based on play "Aa Sarada Mamun"; First majhi (boatman) song 'Maa Kalijae lo' in Odia films sung by Pranab Pattnaik
1970 Adina Megha – Adapted from novel by Kuntala Kumari Acharya; First song of singer Geeta Patnaik Aei amari gaon, Trupti Das sang 'Boulo ki kahibi' at the age of 8, Akshay Mohanty's first song for a lead actor – Aei bhara janha rati
1973 Dharitri – First released film of Sriram Panda (actor), Upendra Kumar (music director); adapted from novel by Amulya Kumari Patnaik
1973 Ghara Bahuda – First double meaning song in Odia films – 'Mo sange laagna tu' by Devdas Chhotray, first film of lyricist Sibabrata Das
1973 Ghara Sansara – First cabaret song in Odia film 'Raat sarabi preet gulabi', first film song of singer Bhikari Bal 'Prabhu pada tale'
1973 Sansara – First Odia film to be made tax free by the state government, produced by Health Dept based on Family Planning; Comeback movie of actor Akshay Mohanty (Kashyap) after Mala Janha; "Naka'ra naka'ra mana" song may be considered as the first philosophical song by Pranab Patnaik; 'Dheu dheuka pahada tale' song was originally tried on Trupti & Gita Patnaik, but finally recorded with Nirmala Mishra;a Sambalpuri song written by State Health Minister MP Mishra (Jae phula re)
1974 Kanakalata – Adapted from novel by Pallikabi Nanda Kishor Bal; folk tune lyrics by greats like Kabi Samrat Upendra Bhanja, Abhimanyu Samantasinghar, Bhakta Kabi Madhusudan Rao, Swabhab Kabi Gangadhar Meher, Atibadi Jagannath Das, Santh Jasobant Das etc
Mana Akasha – Singha bahini song lyrics by Sibabrata Das has been translated from Sri Aurobinda's Durga Shrota. The film is said to be the first recorded film of Music Director Upendra Kumar, but Dharitri got released first
1975 Jajabara – First Odia film to be colourised later on in 2009; First film with a title song, Director Trimurti consisted of Akshay Mohanty, Bijaya Mishra & Hemanta Das
1975 Mamata – First film of Prafulla Kar as music director, It's said that the Hindi song 'Engrezi mein kehte hain (Khuddar) was inspired from the song "Mun ta manisa marini'
1975 Samaya – First partially coloured Odia movie, music director duo of Bhuban-Hari (Bhubaneswar Mishra & Hariprasad Chaurasia) started film career with this movie; First Odia movie song by singer Mukesh (Re priya mora), Producer Ganesh Mohapatra managed various dept like direction, lyrics, screenplay etc
1976 Bati Ghara – Director Abhiyatrik is actually a group of five directors -Anant Mohapatra, Sadhu Meher, Byomkesh Tripathy, Ashu Dutt & Jayant Kumar
1976 Gapa Hele Bi Sata – First fully coloured film in Odia; Odisha Film Development Corporation (OFDC) was created in 1976 for promoting growth of Odia film industry
1976 Krushna Sudama – First film of singer Bhubaneswari Mishra, Song Kahare Kiye se is based on Sri Aurobinda's poetry WHO
1976 Sindura Bindu – Mahasweta acted as junior artist in a song "Adine malli mahake'; 'Jaubana ru apradha' song by Sibabrata Das was initially banned by AIR-Cuttack since it was feared that the song will encourage pre-marital sex, hence Sibabrata was told to apologize publicly; Experimentation in Qawali type singing tried in song 'Tuma saree ra ranga'
1976 Sesha Srabana – Second Odia movie made in colour, debut movie of Mahasweta Ray as actress; First & only Odia movie to have a remake in Hindi as 'Naiya', Rajshri Productions with Prasanta Nanda as director/actor, Kali Kapali song picturised on Odissi dancer Guru Ramani Jena
1977 Abhimana – Debut movie of Uttam Mohanty (actor), directed by Sadhu Meher (first Odia star to win National Award for Ankur-1974), first film of Music Director duo Saroj Patnaik-Radhakrushna Bhanja, first film of singer Swarupa Chakraborty, Radhakrushna Bhanja & Ghanashyam Tripathy
1977 Ae Nuhein Kahani – First full fledged remake movie from Telugu. During late 70s, Andhra Pradesh govt announced subsidy on film making in its state which attracted both & Telugu Odia producers to make Odia films there.
1977 Anutapa – First film lyrics by Nizam & debut film of singer Tansen Singh, Jalal Adeni managed multiple depts. Like direction, music, screenplay etc
1977 Chilika Teeray – First movie of actor Bijay Mohanty in lead for which he received the National award, Nagaphasa was also released in same year (as villain), first film of Tandra Ray, first film of art film director Biplay Roy Choudhury, he later on made Nirbachana.
1977 Naga Phasa – Directed by Producer Basant Nayak himself (only film as director) & assisted by singer Akshay Mohanty when Sisir Mishra left the project; experiment carried out with mujra style song in 'Bada bedardi'
1977 Punarmilana – First all Telugu production including heroine Roja Ramani, remake of Choti Bahen (Hindi) directed by KHD Rao
1978 Jhili Mili – Telugu film remake (Do Kaliyan in Hindi) in Odia directed by KHD Rao
1978 Saakhi Gopinath – First movie of music director Basudeb Rath. He is said to have introduced disco music into Odia songs; First Odia movie of singer Anuradha Paudwal .
1978 Ta'apoi – Directional debut of actor Sarat Pujari, based on folk story of Ta'apoi with debutant Khyanaprabha in lead, choreography by Kelucharan Mohapatra
1978 Kabi Samrat Upendra Bhanja – Made with the efforts by Natyashree Raghunath Mishra (production, dialogue, screenplay, additional lyrics etc), singer brother of Raghunath Panigrahi – Jagannath Panigrahi rendered his voice
1979 Balidana – Full fledged Bollywood style made tried in Odia, Ahe dayamaya biswa bihari eternal school anthem by Bhaktakabi Madhusudan Rao featured in film, first ever Holi song picturised, banner United Producers comprises of Radhanath Bhatt, Devdas Chhotray, Debi Prasad Das, Bijay Bhusan Mohanty
1979 Gouri – Based on Bengali novel Swayamsiddha, adapted later on in Hindi as Jyoti (1981)
1979 Samar Selim Simon – Sekhar Ghosh's first movie song ' Hrudaya ra ei shunyata' (it was originally made for AIR-Cuttack), only released film of actor/director Sailajananda & Narayan Pati
1979 Srikrushna'ka Rasa Leela – First Odia movie in Eastman colour, concept & choreography by Guru Kelucharan Mahapatra, cinematography by Rajan Kinnagi, produced by Kamal Lochan Mohanty (father of Odissi dancer Aruna Mohanty)
1979 Sautuni – Kau dhana khaila boli' lyrics was made in the lines of Jhoot bole kawa kaate (Bobby)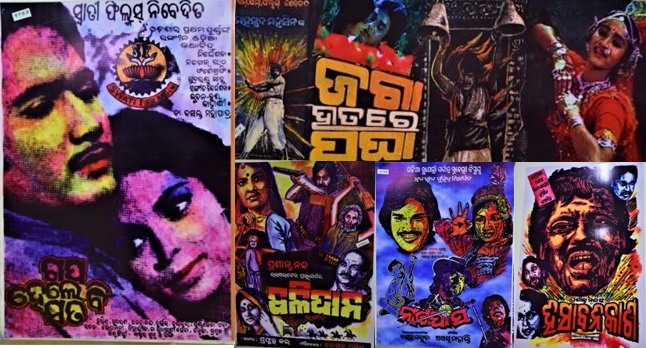 1980 Alibha Daga – First Odia movie with A certificate (due to a rape scene)
1980 Anuraga – Directed by Nitai Palit, despite having good music by Bhuban-Hari & songs by Bhupinder, Chitta Jena, Trupti Das & Anuradha, the film tried in black & white didn't work well in box office
1980 Aparichitaa – Adapted from novel by Pratibha Ray in which her daughter Adyasha was a child artist
1980 Kiye Jite Kiye Haare– Singer Akshay Mohanty's first movie as an actor & one song was even picturised on him with Rupalekha Ray
1980 Maa O Mamata – Directed by Prasanta Nanda with music by Bhubaneswar Mishra, First Odia movie song to feature two legends- Akshay Mohanty & Prafulla Kar, persuaded by Prasant Nanda for the song Kie sata kie satara & Dina re Basanta
1980 Megha Mukti – Remade from Bengali movie Smruti Taku Thak
1980 Tapasya – Dhali dia sara (lyrics by Harihar Mishra) song is dedicated to Jesus. When Music Director Prafulla Kar was invited to a annual function at Stewart School, Cuttack & this song by its ex-student Harihar Mishra was sung & later on added in the film.
1981 Akhi Trutiya – The hit song Asa kie khaiba by Tansen Singh & lyrics by Baikuntha Mohanty has been inspired from Asa kiese jiba ho song by Gokul Mohanty (1932)
1981 Arati – Directed by JH Sattar, dancer Helen had appeared in a song picturisation
1981 Batashi Jhada – Salil Chowdhury's first & only Odia movie as music director with Yesudas, Hemlata, Leela Ghosh, Sikandar Alam among the singers
1981 Manasi – Remade from Bengali film Salaam Mem Saheb
1981 Nila Shaila – Film based on Surendra Mohanty's epic novel Nila Saila, songs made by Prafulla Kar, but movie never got released
1983 Ulka – Directed by Raju Mishra & Surya Mishra, Music director duo-Bibhu Mohanty & Raju Mishra, only hero film of screen play/director Binod Mishra ,  'Abhimanini ye' song is said to be inspired from initial lines of song "Kai din se mujhe" (Akhiyon Ki Jharokhon Se)
1982 Astaraga – First movie of actress Aparajita Mohanty
1982 Hisab Nikas – First Odia film in cinema scope, producer Tribandhu comprises of RN Santuka, Eshwar Agarwal, JK Shah
1982 Samaya Bada Balaban – Inspired from Amar Akbar Anthony & Zanzeer movies; choreography by Saroj Khan
1983 Bhakta Salabega – Lyricist Gulzar saab's first song in Odia films – 'Rakshame jis taraf' (Urdu Qawali), directed by Radha Panda, music Bhuabaneswar Mishra
1983 Jhiati Sita Pari – Adapted from novel by Sukamini Nanda
1983 Subarna Sita – Adapted from novel by Bina Mohapatra, mother of singer Sushree Sangeeta Mohapatra who sang is this film too
1981 Swapna Sagara – First Odia 70mm cinemascope movie
1982 Sita Rati – First Odia art movie adapted from novel by Bibhuti Patnaik, won national award for best regional film keeping aside Matira Manisa movie
1983 Maya Miriga – Adapted from novel by Bibhuti Patnaik, first Odia movie to be screened at Cannes Film Fest 1984, only directional movie of Nirad Mohapatra starring his journalist brother Sampad Mohapatra
1984 Basanta Raasa – Odia movie with highest songs – 81 songs
1984 Kaberi – Adapted from novel by Gayatri Basu Mallik
1985 Babula – First children's & sci-fi movie made in Odia directed by Sadhu Meher, also dubbed in Hindi & Kannada
1985 Hakim Babu – Adapted from novel by Bibhuti Patnaik & directed by Pranab Das, the film won National award
1985 Jaga Hathare Pagha – Singer Mohd Aziz & actress Baishali Panda's first Odia movie;
1985 Palataka – Adapted from novel by Kanhu Charan Mohanty; only directed movie by producer Prafulla Rath
1985 Para Jhia Ghara Bhangena – Adapted from novel by Bhagirathi Das
1986 Sabu Maya re Baya – Directed by Sabyasachi Mahapatra, the film had Mumbai crew esp: Fights-Ram Shetty; Camera-Lawrence DSouza; Dance-Chinni Prakash
1986 Sata Kebe Luchi Rahena – Remade from Ullasam Geetam (Tamil), SP Balasubramaniam's only Odia movie
Reference : Odia Chalachitra ra Agyanta Adhyaya by Bhim Singh
This article was previously published on 3.5.2016 in eodisha.org.. https://eodisha.org/trivia-reel-odisha-film-era-odia-old-film-details-odishatalk-odiafilm/ And in Odisha Sun Times on dt 10.5.2016 .. https://sambadenglish.com/2016/05/10/odia-films-trivia-will-blow-mind/