Raj Kishore Mahapatra, a native of Gadahaladia (Khurda) has been into the art business of making the ten-headed Ravan idols for 'Ravana Podi Utsav' on Vijaya Dashami day, since the last 30 years in Bhubaneswar.The effigies are mainly prepared with bamboo & straw while its outer covering is done initially by wrapping cotton sarees & then newspaper is pasted on it. The gum for pasting is made from a mix paste of maida, kaitha (wood apple) & kainya manji (tamarind seed).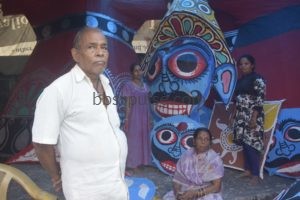 Rajkishore is a retired employee of Odisha State Road Transport Corporation. He takes around 1.5 months for making a single effigy which costs around Rs 20,000/- on an average depending on its size. This year's Baramunda's effigy will be a gigantic 50ft tall. The Supreme Court's order & the recent Titli cyclone has affected his business to some extent. However, fresh orders from adjoining places like Khurda, Jatani & Puri, totalling seven, has brought back smile on his face. He says " When I see smile on the spectators faces who appreciates my efforts while enjoying  Ravan Podi, I get my parisramika (wages)." He is well supported by his family members consisting of Sobharani (wife), one son & three daughters. During the rest period of the year, they are engaged in making Jagannath idol, wooden painting, pattachitra making, temple painting, rath making & even marriage related art works.
Ravan Podi is not part of Odia culture, but was added a few decades before in order to add grandeur to puja celebration in big cities like Bhubaneswar. Till 2015, there was an average of 12 ravan podi effigies being set to fireworks in Bhubaneswar alone incl. Badagada (2 nos), Nayapally, Jharpada, Saheed Nagar, Chandrasekharpur, Bhim Tangi, Ganga Nagar, Damana, Baramunda etc. Some even had Kumbhakarna (Ravan's brother) in addition to the regular Ravan. But, due to recent Supreme Court's order on sale & display of fireworks in public events, the business of ravan effigy making has taken its toll. Only pandals like Baramunda & Jharpada with ample space nearby are allowed to burn the effigies during the event. Hope, artists like Rajkishore's efforts & livelihood is not ruined by court's orders & he continues to serve smiles.
All images © 2012-2018 Taranisen Pattnaik
©2012-2018 All Right Reserved. www.bbsrpulse.com. Mail ID-info@bbspulse.com